'Third of South ambulances' off road due to defects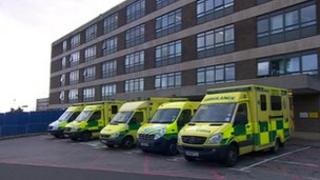 Up to a third of ambulances were off the road in the South this winter due to defects, the BBC has learned.
The issue has led to complaints from South Central Ambulance Service (SCAS) paramedics, a board member has said.
Figures obtained by the BBC showed between October and January 33% of ambulances in Buckinghamshire were off the road, 31% in Oxfordshire, 21% in Berkshire and 20% in Hampshire.
SCAS said the figures were "too high" but the issue was being addressed.
Senior SCAS board member Eddie Weiss said complaints were made to him during his visits to ambulance stations.
He added: "Crews find it frustrating when ambulances are sitting there out of action."
The main reasons for ambulances being off the road were problems with tyres, electrical faults, and tail-lift defects.
SCAS said it had planned to have 20 extra vehicles in time for winter but these had arrived later than planned, and it was only now getting them ready to be used.
John Nicholls, chief operating officer at SCAS, said that "our vehicle off road rate is too high at the moment".
He said measures have been put in place to address the issue, such as increasing mechanic availability.
Seven new tail-lifts are also being ordered for ambulances due to problems with the equipment.
In one incident, a tail-lift failed while paramedics were attending to a patient who had had a cardiac arrest.
SCAS said the company that supplied the tail-lifts to them had "gone bust" so the ambulance service was unable to fix them when they became faulty.
Phil Pimlott from SCAS explained: "We try wherever we can to learn from those lessons, look at the equipment we've got, and look at who's supplying them to make sure we can try and reduce that risk as much as possible, but there is always a risk, unfortunately, that things will go wrong."
He added he understood the frustrations of the paramedics, but said the service was "doing everything we can" to make sure it had the vehicles available for crews.