Colin Kazim-Richards faces 'homophobic' gesture probe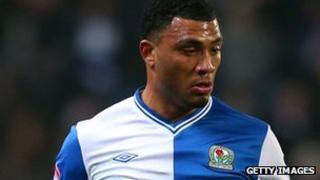 Police are investigating allegations that a Blackburn Rovers footballer made homophobic gestures to Brighton fans during Tuesday's Championship match.
Brighton fans took to Twitter to vent their anger after the game, criticising the behaviour of Colin Kazim-Richards.
The 26-year-old, who once played for Brighton, was accused of making homophobic gestures during the game.
Sussex Police say they received a number of complaints and are liaising with Lancashire Police.
A spokesman said: "Whether you are on the pitch or in the stands, Sussex Police takes any allegations of homophobic language or gestures seriously and we will investigate any allegation we receive."
Anti-racism ambassador
The club confirmed it was aware of the allegations but declined to comment.
A spokesman said he was not aware of any contact from the police, but confirmed that the player is in the squad for Blackburn's FA Cup match against Arsenal on Saturday.
Kazim-Richards joined Blackburn in August from Greek club Olympiakos.
He joined Brighton as an 18-year-old in 2005 and left the club just over a year later.
He was born in east London to a Turkish Cypriot mother and an Antiguan father and has been involved in anti-racism campaigns, acting as an ambassador for the group Kick It Out.
His website is currently offline.