Backpacker Sam Woodhead missing in Australian outback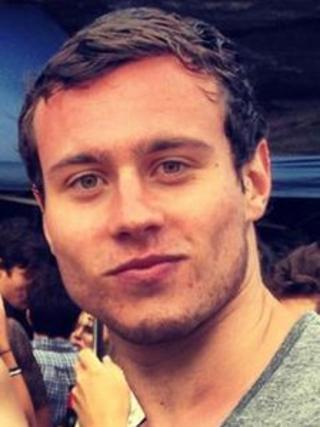 A British backpacker has disappeared after setting out on a run in the Australian outback.
Sam Woodhead was reported missing from a cattle station in central Queensland after he failed to return two days ago.
Local authorities launched a hunt for the former Brighton College student, reported to be 18 and from Richmond, south-west London, amid fears he may have lost his way.
Temperatures have been around 37C in the area this week.
Mr Woodhead's mother is understood to have urged police to widen the search on the grounds that her son, an experienced long-distance runner, could have travelled some way from his base, near the town of Longreach.
Mr Woodhead had been in Australia for eight days before he disappeared on Tuesday afternoon.
'Voluntary search party'
He was reported missing by the owner of Upshot Station, where he was working.
His wallet is understood to have been found at the cattle ranch but there was no sign of his rucksack or running shoes.
His sister Rebecca has appealed for news on Facebook.
"If anyone hears from my brother please contact me ASAP," she wrote on Wednesday.
"Thanks so much for all your messages regarding Sam," she wrote in another posting.
"Still no further news but we have the helicopter going out again in the morning, Aus time, and hundreds of people going on a voluntary search party. will keep you all posted."
A Foreign Office spokesman said: "We are aware that a British national has been reported missing in Queensland, Australia.
"Consular staff in Brisbane are in contact with Australian police who are conducting the search.
"We are providing consular assistance to the family in the UK at this difficult time."
Richard Cairns, headmaster at Brighton College, said: "Sam is an impressively resourceful and determined character and I have every hope that he will be found safe, alive and well.
"Everyone at Brighton College is praying for his safe return and our thoughts are obviously with his parents Peter and Claire and his sister Rebecca at this immensely worrying time."