Connors family forced labour sentence ruling reserved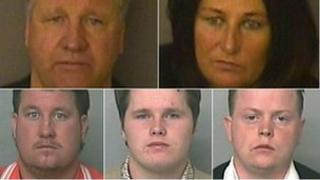 A ruling on whether longer jail terms should have been given to a family who forced vulnerable men to work for them is to be made in the next few weeks.
The Lord Chief Justice has been listening to prosecutors argue the sentences were "unduly lenient".
William Connors, 52, Brida (Mary) Connors, 48, sons John, 29 and James, 20, and son-in-law Miles Connors, 24, were sentenced in December.
The prosecution has appealed against all sentences except Brida Connors's.
The five relatives were found guilty of conspiracy to require a person to carry out forced or compulsory labour in a trial which finished in December and were given sentences ranging from two-and-a-quarter years to six-and-a-half years.
Longer sentence 'deterrent'
The case prosecution team took its appeal to Attorney General Dominic Grieve who agreed the sentences should have been harsher and personally represented the prosecutors at the Court of Appeal in front of three judges, including Lord Judge, the Lord Chief Justice.
Mr Grieve suggested longer sentences should have been imposed to deter others from committing similar crimes.
He said the sentences given would have been more suitable for people who had admitted their guilty in such a case.
But the defence team said the case was so complex the only person able to pass a realistic sentence was the judge who had listened to all three months of the trial.
William Connors was jailed for six-and-a-half years and his wife Brida was sentenced to two years and three months.
Their two sons, John and James, were jailed for four years, and three years in a young offenders institution, respectively.
Son-in-law Miles was sentenced to three years.
Last year's trial at Bristol Crown Court heard the family had committed crimes in Gloucestershire, Leicestershire and Nottinghamshire.
Prosecutors told the trial the family had their own private workforce - victims who were homeless drifters or addicts - who they beat and forced to work for as little as £5 a day.
A judgement is expected to be made within six weeks.