Local Enterprise Partnerships face financial challenge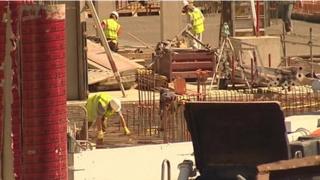 Who's in charge of growing the region's economy? These days the task falls to six Local Enterprise Partnerships, or Leps.
They replaced the old East of England Development Agency, which was abolished last year.
The Leps' progress has been patchy, with some openly admitting they lack the resources to do a proper job. Others have made bigger strides.
Northamptonshire Enterprise Partnership says it has created 1,000 jobs in 18 months. Executive director Rob Purdie said: "We are very lucky that our county council funds us with £2m per annum over three years.
"The new structure works for us. We understand our patch. We know where the problems are and we know where we can make an impact."
Leps get £250,000 a year each from central government towards their running costs. This is a drop in the ocean compared to EEDA's old budget of £140m a year.
The Greater Cambridge-Greater Peterborough Lep says funding from central government has been inadequate. Local authorities, which fund most economic development work, have also been cutting back.
"Leps are currently unable to provide the breadth, capacity and funding that regional development agencies were able to provide," it said.
Richard Howitt, Labour MEP for the East of England, said: "I'm doing my best to support the Leps. But when you add up all the staff of every single one in the country, they've still got less money and fewer personnel than the smallest of the old development agencies.
"They are being asked to do a very big task by the government with one hand tied behind their back."
Skills Minister Matthew Hancock said the old development agencies had been inefficient and had not reflected the needs of each local area.
"Where Leps are asked to do more, of course there needs to be appropriate finance for that. But we also need to make sure we get value for money for the taxpayer," he said.
A key moment for Leps may come in the Budget, next month. The government will respond to a report by Lord Heseltine, calling for budgets for areas such as roads and skills to be devolved to the regions.
If this happens, it is possible Leps will be put in charge, giving them much more financial muscle.
'Haven't got resources'
In the meantime, Leps are continuing to develop the region's four enterprise zones: in Northampton, Alconbury, Harlow and Great Yarmouth-Lowestoft.
The Northampton zone is already bearing fruit: Carlsberg has built a £20m bottling plant within its boundaries.
Bruce Ray, of Carlsberg UK, said: "We have been able to bring an extra 30 people in from a jobs point of view. Perhaps that would not have been the case without the enterprise zone and the confidence it creates."
If gaining funds from central and local government is difficult at present, another option for Leps is to seek them from the private sector.
However, one Lep executive said this had been hard: "In the present climate, companies have their own issues and are reluctant to commit funds to organisations they are unfamiliar with.
"The overall funding position is very difficult. Leps have so much ground to cover - tourism, hi-tech manufacturing, broadband, accessing EU money - but they haven't got the resources to do it."
Sunday Politics East is on BBC 1 at 11:00 GMT on Sunday