Connors given £500,000 support for forced labour trial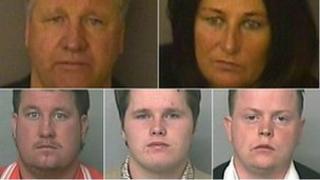 A family of travellers who were found guilty of forced labour were given nearly £500,000 in legal support.
Five members of the Connors family were jailed last December after being found guilty of keeping a private workforce.
A Freedom of Information request revealed that £461,363 was paid defending the family, including during a three-month trial.
The trial heard about crimes committed by the family in Gloucestershire, Leicestershire and Nottinghamshire.
'Means test'
A hearing under the Proceeds of Crime Act is expected to take place later this year when prosecutors will seek to seize the Connors' assets.
The Legal Services Commission (LSC), which oversees legal aid, could get the money back if it is found that the Connors have assets of more than £30,000.
A commission spokesperson said: "The law says that anyone facing a Crown Court trial for a serious criminal offence can apply for legal aid to ensure they have a lawyer, but funding is subject to a means test which could require them to pay towards their defence."
William Connors, 52, was jailed for six-and-a-half years and his wife Brida (Mary) Connors, 48, was sentenced to two years and three months.
Their two sons, John, 29, and James, 20, were jailed for four years, and three years in a young offenders institution, respectively.
Son-in-law Miles, 24, was sentenced to three years.
Each of the family was defended by a QC, a senior barrister, who was assisted by junior counsel.
'Incredible'
The LSC spokesman added: "We manage costs carefully and legal aid rates are considerably less than those paid to lawyers in privately funded cases.
"Trials can cost a lot of money if they last many weeks, are very complex and have thousands of pages of evidence."
A spokesman for the Gypsy Council said: "I thought they have been clamping down on giving out legal aid wherever possible and you have to fulfil the criteria.
"If they got legal aid there must have been a reason why they got it," he said.
The Lord Chief Justice of England and Wales is currently considering his verdict on whether the sentences given were "unduly lenient".
Case prosecutors launched an appeal against all sentences, except that of Brida Connors, which was heard at the Royal Courts of Justice last week.
Attorney General Dominic Grieve agreed the sentences should have been harsher to deter others from committing similar crimes.
But the defence team said the case was so complex the only person able to pass a realistic sentence was the judge who had listened to all three months of the trial.