Avon, Devon and Somerset fire services discuss merging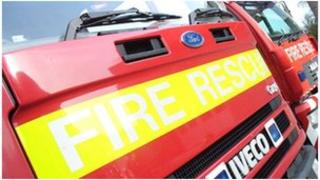 Two West Country fire brigades are in talks over merging to save money.
Avon Fire and Rescue Service and Devon & Somerset Fire & Rescue Service said the move could "improve effectiveness".
The Devon and Somerset service faces a shortfall of £5.5m over two years and unions fear 150 jobs are at risk.
The services said they were exploring everything from sharing support services to a full merger. The Fire Brigades Union (FBU) said such moves would not improve services.
'Challenging times'
The services said in a joint statement: "Along with all public sector organisations, both fire and rescue services are facing financial pressures due to reductions in government funding."
Terry Walker, chair of Avon Fire and Rescue Service, said: "During these challenging times we cannot rule out new ways of working to help meet our reduced budgets, whilst aiming to maintain the much valued service we provide to the public."
Mark Healey, chair of Devon & Somerset Fire & Rescue Authority, said: "Working with Avon Fire and Rescue Service could provide real opportunities for improving public safety.
"We recognise that the fire and rescue service has to change and, like others, faces an uncertain financial future."
They added that no decisions had yet been made on how the services could work together.
The FBU said it was "adamantly opposed" to the idea of a merged "mega brigade".
South west regional secretary Phil Jordan said: "Bigger is not necessarily better for the public or for firefighters.
"Devon and Somerset only merged six years ago, yet it already plans to make cuts to one in five frontline firefighter jobs.
"Clearly the previous merger has not protected frontline services."