Birds oil pollution ship 'cannot be found'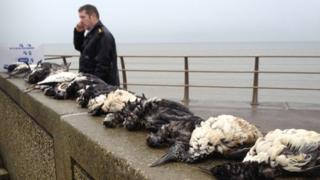 An investigation into the source of a substance which killed scores of birds has been closed, with the authorities unable to find the ship responsible.
More than 300 birds were rescued after being found covered in glue-like polyisobutene (PIB) on the south coast.
The Maritime and Coastguard Agency (MCA) said it had failed to pinpoint the timeframe or location for when the material was discharged.
It said without new information it was "unlikely" the ship could be traced.
The birds were found in Dorset, Cornwall, Hampshire and Sussex.
An MCA spokesperson said: "This is a fairly common chemical carried aboard ships and it is produced in a large number of countries.
Released into wild
"Despite further tests, we have been unable to identify specific components of the product that may have helped us find the source.
"We did not receive any reports of pollution within the English Channel area at the time when the birds were coming ashore.
"As such, we have concluded that it is highly unlikely we will be able to link the pollution to any specific vessel."
The RSPB has called for PIB, which can be released legally under certain conditions, to be reclassified and discharges outlawed.
Dorset MP Richard Drax previously said he would ask the government to clarify what is allowed to be released and when.
About 200 of the 300 birds rescued survived with many of them expected to be released back into the wild in the next two weeks.
The West Hatch Animal Centre in Taunton, Somerset, took the birds in with about 60 later transferred to the RSPCA's centre at Mallydams Wood in Hastings, East Sussex.