Alvechurch School coach crash: Survivors 'waiting for answers'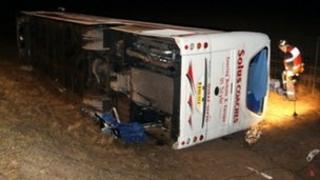 One of the people seriously injured in a school coach crash in France has said he is still "waiting for answers" about why it happened a year on.
Steve Ratheram, a ski instructor, said there is still a "big hole where we know nothing".
Peter Rippington, 59, who taught at Alvechurch School in Worcestershire, died in the crash in France.
The coach driver will face involuntary manslaughter charges in a French court later this year.
Mr Ratheram, from Yardley Wood in Birmingham, said: "I would like to know why it happened, it would be some closure for us - there's a lot of people who need some answers."
Irwin Mitchell Solicitors is representing 20 children, two teachers and two ski instructors who were hurt.
The firm has started legal action against Interschool Travel Limited, which organised the skiing trip to France.
Hopes to ski again
Philip Banks, from the solicitors, said most of the survivors have "a very positive attitude" but because the investigation is taking some time it is "quite frustrating for my clients".
Interschool Travel Limited said its thoughts and sympathies remain with the bereaved, the injured and the traumatised.
Managing director Colin McIntosh said the impending legal hearings will be "a difficult time for all involved, both families and individuals".
"It would be inappropriate and insensitive to those who have suffered loss or injury to offer any opinion or observation while investigations are still ongoing and in advance of findings of the court," he added.
The driver of the coach Derek Thompson, 47, was charged by French police with involuntary manslaughter.
He was allowed to return to the UK but will stand trial in a criminal court in Chalons-en-Champagne later this year.
Mr Rippington died and more than 20 people were hurt when the bus overturned and plunged to the bottom of a motorway embankment on the A26 near Rheims on 19 February last year.
Mr Ratheram, whose injuries included nine fractures to his spine and broken ribs, said he knows that he will never be able to do all the things he used to.
"Hopefully I'll be able to ski again, I do think about those things, but that's off in the distance," he said.
Alvechurch School said on its website that it has plans to build an outside classroom in memory of Mr Rippington.
It said this will be funded partly through donations, including one from Mr Rippington's mother.
The school said it hopes to install the new structure "before or over Easter".