Seddon murders: Son 'shot parents for inheritance'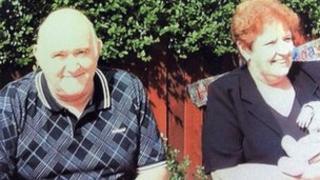 A man shot his parents dead for his £230,000 inheritance after they survived a car crash he had faked months earlier, a court heard.
Stephen Seddon, 46, is accused of murdering Robert Seddon, 68, and Patricia, 65, at their home in Sale, Greater Manchester, on 6 July 2012.
Manchester Crown Court was told he had debts and an insatiable need for cash.
Mr Seddon, from Seaham, County Durham, denies two counts of murder and two counts of attempted murder.
The prosecution allege Mr Seddon drove a car with his parents strapped in the back into the Bridgewater Canal in Timperley in March last year, in an earlier bid to kill them.
'False trail'
Also in the car was his nephew Daniel, who lived with the Seddons.
The jury heard that Stephen Seddon hired a BMW and drove from his home to Manchester on the pretext of treating his parents to a surprise meal as a belated Mother's Day present.
However when he drove along a stretch of road beside the canal, the car left the road and went into the water.
Everyone in the car managed to escape and the cause of the crash remained unexplained.
Peter Wright QC for the prosecution said Stephen Seddon "was portrayed as a hero in the media and happy to perpetuate this myth".
In July last year, the couple were found at their home in Clough Avenue, Sale, and had been shot at close range with a sawn-off shotgun.
Mr Wright said the killer had made the scene look like Robert Seddon had killed his wife.
"In the immediate aftermath of shooting this elderly couple, the killer placed the shotgun used to dispatch both of them, in the lap of Robert Seddon, taking his right hand and placing it on the weapon in order to give the impression that he shot his wife and proceeded to take his own life," he said.
"The person responsible not only wanted rid of Robert and Patricia Seddon, a quiet, unassuming, elderly couple, he wanted to lay a false trail.
"A trail, we say, he hoped would lead away rather than towards a man with a considerable motive to kill these two people.
"That man was their son, the defendant, Stephen Seddon."
The case continues.