Harwich family's pain over Gary Vigors' Majorca death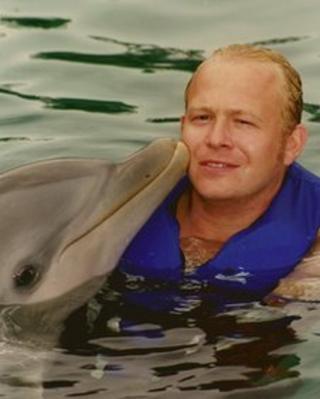 A man has spoken for the first time of the pain his family has endured since his son was fatally stabbed in Majorca.
Gary Vigors, 42, of Essex, was killed outside a bar in Magaluf in March 2011.
His father David, said his death is still "raw" and the family are desperate for closure.
Thomas Swannell, 46, of Wellingborough Road, Northampton, is due to stand trial for voluntary homicide at Palma de Mallorca court in June.
Mr Vigors, who lived on the same street as his parents in Dovercourt, Harwich, had a partner and a young daughter.
He had been asked to go to Majorca for the weekend to provide some younger company for his boss on his father's birthday break.
Ex-colleague broke news
He was in Majorca just a matter of hours when he was attacked on his first night out with the group in Magaluf.
The following day, Mr Vigors, a retired Essex Police officer, was at home alone when a former colleague turned up.
"The doorbell rang and there was a policeman there - a chap I used to work with," he said.
"I thought he'd just come round for a cup of coffee, as they often do.
"But he said 'David, I'm sorry...'."
The family faced an agonising few days and painful conversations with the Foreign and Commonwealth Office, and with Gary's boss when he returned to the UK.
In that slow drip-feed of information, they discovered Gary had been stabbed and had his throat slit with a broken bottle.
"It was two years ago but it's still raw," said Mr Vigors.
"It's been very, very difficult. We still don't know what really happened; why there was some sort of argument and Gary got attacked.
"We're a small, close-knit family, and Pat has been the strong one."
'Perfect son'
The couple, who have a son and daughter, have not been to Majorca since Gary's death. He died just three days after their wedding anniversary, and on the island where they had honeymooned in 1968.
Mr Vigors described his son as "the best of the best" and said he worked hard and had a good job.
"He was the perfect son; he came round here every day. We were very proud of him," he said.
"We've got a book from work which was passed around and some of the comments in there are enough to make you cry, the kind of person he was.
"He wasn't a bully or a thug or a nasty person at all.
"He was the kind of bloke who would stand up and help if someone needed it.
"I spent 30 years with the police and you get used to some horrible things but nothing prepares you for when it happens to you."