Chimneys warning after 29 fires in Devon and Somerset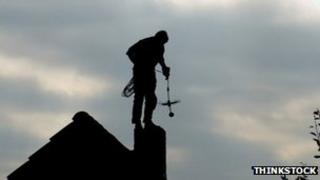 People in Devon and Somerset are being urged to have their chimneys swept after nearly 30 fires in a week.
Devon and Somerset Fire and Rescue Service said it had dealt with 29 incidents across both counties in seven days up to Friday morning.
The service said it had partly put it down to a recent cold spell resulting in more people using open fires and wood burners at home.
It added that regular chimney inspections could help prevent fires.
During the week, crews have been called out to incidents from Glastonbury, Ilminster and Street in Somerset; to Crediton, Dawlish and Exeter in Devon.
The latest fire was in Honiton, Devon, at about 07:00 GMT on Friday, the service said.
Community safety manager Phil Martin said that, as well as cleaning, inspections should be carried out regularly to ensure chimneys were not damaged.
He said: "If you have a damaged chimney, a fire could spread to elsewhere in the house.
"With chimneys, there are things that would give you an indication of problems: a build-up of smoke coming out of the top, or sparks coming out.
"Or you might see some embers dripping back on to your fireplace."