Green Party celebrates its birthday at Conference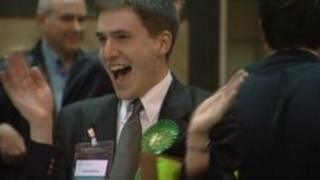 A group of friends gathering in a Warwickshire pub, inspired to save the planet by an article in "playboy" magazine, was the unlikely beginning of the modern day Green Party.
No one would have predicted they'd still be here 40 years on but they are - particularly in this region.
The party boasts 40 councillors across the East - it's the main opposition on Norwich and Mid Suffolk councils and it has high hopes for this year's local and next year's Euro elections.
"Our membership has doubled in the last five years," says Norwich's Adrian Ramsay. "We've grown quicker than we predicted and in all those places where we've been elected, we're having a radical impact on the policies that are debated and adopted."
Mr Ramsay, 31, was campaigning for the Greens before he was old enough to vote. After becoming a Norwich councillor and deputy party leader, he's now the party's Home Affairs spokesperson.
"Of course I believed the party could be this successful," he says. "Many of the ideas we promoted 40 years ago have now been taken on board: recycling is common place, we've got international agreements on climate change but there is still more to do."
Norwich is the party's main success story in the region; the Greens have 15 councillors on the city council.
Social Justice
"We are now a strong national party and people take us seriously," says 38-year-old group leader, Clare Stephenson.
"There may still be a few dodgy clothes around but not so many. We've got a much more professional outlook and I hope we now appeal to all sections of the population."
She attributes a lot of the party's success to its policy of championing local issues. "Social justice is one of our tag-lines," she explains. "We need to share things out and I think that appeals a lot to people who live in cities, where discrimination and inequality are much more apparent."
But is the party facing a mid life crisis? Professor Paul Whiteley at Essex University has studied the rise of the Greens and wonders how much more the party can achieve.
"They have the dilemma of all small parties, which is that if they've got a good idea, their older and well established cousins will steal their clothes. In one sense that's a victory but in another it leaves them high and dry."
He also points to research in other parts of Europe, which suggests that austerity is pushing environmental concerns down the voting agenda.
"When times are good people will say we're ready to make some sacrifices for the environment but when times are bad they are less willing to do that and that's a problem for the Greens."
Adrian Ramsay disagrees: "We are not seeing the scale of action needed by governments to tackle the problems that we have in terms of the environment and increasing inequalities in society. We're needed more than ever before."