SW fishing nets could negate need for discard ban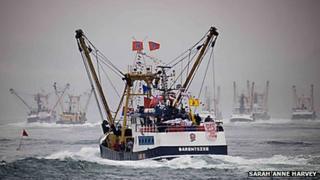 A successful trial piloted by fishermen in the South West could negate the need for a ban on discarding fish, it has been claimed.
Fisheries Ministers will vote on EU Common Fisheries Policy reforms next week, including a discard ban.
But Jim Portus from the South West Fish Producers Organisation said a trial in Brixham and Plymouth using new nets had reduced the discard by more than 50%.
He would like more wide-ranging trials before a discard ban is introduced.
'Resounding success'
"Obviously there isn't such a thing as 'one size fits all', but Project 50% was a success and was praised in Brussels," Mr Portus told BBC News.
"Other types of fishing in other areas may require slightly different nets, but the problem is the industry hasn't had time to test them.
"Innovators are working on the nets to try to make them more fish-friendly and escape friendly for the immature fish, but it takes time and that's what I'd urge our minister to allow us to have."
Working with local net-makers, Devon's beam-trawler fishermen voluntarily trialled their own designs, stitching the net panels together in a different way to allow the mesh to stay open, thereby letting smaller fish escape.
The year-long trial in 2009 was funded by the government and the Centre for Environment, Fisheries & Aquaculture Science (CEFAS) described it as "a resounding success".
CEFAS said average discard reductions were 52%, but one boat achieved a 69% cut. About 90% of the Brixham and Plymouth beam-trawler fleet now use the modified nets.
In a report for the International Sustainability Unit, set up by Prince Charles, Alex Philips and Shaun Gibbs, who own and skipper the Barentszee trawler out of Brixham, said the new nets also created less drag in the water, saving them about 20% on fuel costs.
Mr Portus said the new proposals would mean fish which were over quota or undersized, would have to be brought to shore and taken to landfill.
"They're not allowed to be sold for human consumption, so that requires separation at sea by the fishermen - extra work at extra cost - and then they have to be disposed of," he said.
"It costs £700 to send a lorry to Grimsby and it would probably take a week to fill that lorry or longer in a port like Brixham... so let's hope they don't come up with a silly solution in Brussels."