Big Lottery Fund invites veterans to bid for trip cash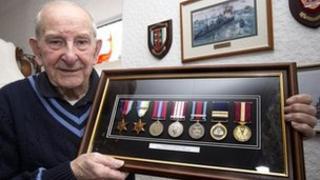 World War II veterans from across the north-east are being invited to bid for funding to revisit the countries where they served.
Ex-servicemen and women can apply to the Big Lottery Fund for cash to use on trips with their families as part of the Heroes Return 2 programme.
More than £25m was spent on the first round of visits and applications for the latest packages open on Monday.
James Turner from the Big Lottery Fund said veterans were owed "a debt".
Ron Veitch, 88, from Billingham, Teesside, is due to travel to Malta as part of the programme.
He will visit the area where his ship HMS Glasgow was repaired after it was bombed by Italian aircraft.
He said: "I'll be going with my son to show him the places I remember.
"It will bring back memories of how wonderful the people were and the kindness they showed to us."