Devon smokers 'admit using smuggled tobacco'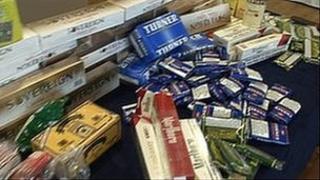 Illegal tobacco has been used by almost a third of smokers in Torbay and more than a quarter in Plymouth, a government-funded body has revealed.
Smokefree South West said 32% of smokers, about 11,600 adults, in Torbay admitted buying the tobacco compared to 29%, about 12,200, in Plymouth.
It is one of a number of agencies involved in a crackdown on the sale of smuggled or counterfeit products.
HM Revenue and Customs (HMRC) said it was a "real problem" in the region.
Smokefree South West director, Fiona Andrews, said: "Cigarettes and pouches of hand rolling tobacco are offered to our children at pocket money prices making it cheap and all too easy for our children to smoke and become addicted."
'Key region'
A spokesman from the organisation said it was one of the only regions in the country to be running an illegal tobacco campaign.
He added that with its coastline, the South West was a "key region" where illegal tobacco could be bought into the UK.
Bob Gaiger, from HMRC, said: ""The trade in illegal tobacco across the South West is a very real problem, one that through this partnership initiative we are tackling, but there is more still to be done.
"These criminals smuggle tobacco and cigarettes illegally into the country."
Smokefree South West is working with the HMRC, Trading Standards, Devon and Cornwall Police and local authorities.
Smokefree South West said there were 810,000 smokers in the region with 158,760 smoking illegal tobacco.