Hull City hopes to resolve Huddersfield ticket row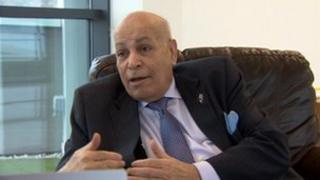 A solution will be reached in the dispute over travel and ticket restrictions for Hull City's game at Huddersfield Town, Hull's owner has said.
Assem Allam said staff at Hull had been talking to West Yorkshire Police.
The force said only fans who arrive on official coaches would be allowed into the game at Huddersfield on Saturday.
Officers said the decision was to ensure the match, which has a late kick-off, could be policed safely.
The kick-off time for the match has been changed to 17:20 GMT to allow Sky to broadcast it live.
West Yorkshire Police said it had limited tickets for Hull fans to 1,500 and was making them travel on official coaches to avoid trouble from all-day drinking.
Assistant Chief Constable Craig Guildford said: "We are currently in negotiations and are speaking to both football clubs.
"Discussions will be taking place this week and we will update the public when a decision is reached."
Mr Allam said the police were "very sensible people" and "the situation is moving in our favour".
He said the Championship team had fans all over the country.
"It doesn't look right to get fans from Leeds or Huddersfield to travel to Hull to take the buses," he added.
Louis Cooper, a 15-year-old football fan from Manchester, has previously threatened legal action against West Yorkshire Police over the travel and ticket restrictions.