Algeria hostage Sebastian John honoured at Norwich Cathedral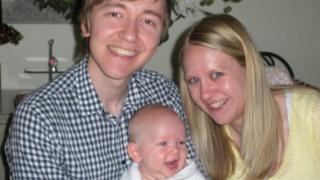 The widow of an engineer killed in the Algeria hostage crisis said he was "the most amazing person I ever met" at a remembrance service in his honour.
Sebastian John, 26, of Surrey, was one of six Britons believed to have been killed at the In Amenas gas plant after extremists stormed it last month.
The BP civil engineer had only arrived in Algeria a week before the crisis.
Friends, family and colleagues paid tribute in the city where he grew up at Norwich Cathedral.
His wife Nicola, who brought their eight-month-old son Ralph to the service, said: "He really was one of a kind and I feel so lucky to have ever met him and for him to have chosen me to spend his life with.
"I'm so proud of him for everything he did. I am eternally grateful for the time we did have."
About 40 hostages were killed in the attack, with three Britons confirmed dead and another three feared dead. It is believed another British resident from Colombia was also killed.
'World at his feet'
Some 29 of the hostage-takers died, while three were captured by Algerian troops during a special forces mission to end the four-day stand-off which began on 16 January.
Mr John was born in Luton but spent much of his childhood in Norfolk, attending Norwich School which adjoins the cathedral.
He had lived in Nottinghamshire since graduating in 2009 from Loughborough University and had recently moved to Surrey after taking up the job with BP.
The ceremony, attended by hundreds of people, opened with a rendition of Jerusalem.
Tom Sumner, Mr John's best friend during their time at Norwich School, said: "Seb was the best friend I could have wished for. He influenced me for the better."
Richard Coakley, president of the Institute of Civil Engineers, told the congregation that Mr John was a "talented civil engineer with the world at his feet.
"His commitment and passion for his work and his young family showed through in all that he did," he said.