Yorkshire Ambulance Service workers hold strike ballot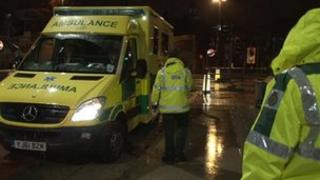 Ambulance workers in Yorkshire are to be balloted over strike action in a row over staffing changes.
Unite is concerned about plans by the Yorkshire Ambulance Service to introduce assistants with six weeks of training to work with paramedics.
The union said its 450 members had been sent a letter by the trust saying it was no longer prepared to negotiate.
The trust said it "had not received a constructive contribution to the difficult decisions for the future".
'No alternative'
Paramedics and other ambulance staff will be balloted from 6 March with a strike, said Unite.
A strike would follow on 18 March if its members voted to take action, the union added.
The dispute is over plans to save £46m over the next five years by introducing emergency care assistants to work alongside more highly trained paramedics.
Previously, Yorkshire Ambulance Service said it had decided to cease to recognise Unite for the purposes of collective bargaining but would continue to work with Unison.
Terry Cunliffe, Unite regional officer, said a strike was now "inevitable".
"I've offered to meet with the trust, with [conciliation service] Acas, without preconditions and they have thrown it back in our face. We feel we have no alternative."
Stephen Moir, the deputy chief executive at Yorkshire Ambulance Service NHS Trust, said: "Unfortunately the working relationship with Unite the Union has been deeply disappointing over a prolonged period.
"We have not received a constructive contribution to the difficult decisions the Trust has been required to make for the future, particularly as we seek to maintain high-quality care for patients against the realities of the tough economic climate.
"More recently Unite the Union has advised its members to accept the Trust's proposals on changes to the A&E workforce and this is inconsistent with their stated public position to reject the Trust's plans".