John Anslow escape: Seven men arrested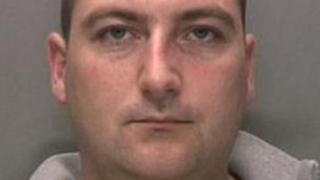 Seven men have been arrested over the escape of an inmate from a prison van when it was ambushed on its way to court.
John Anslow, who was on remand accused of murdering a man in Staffordshire in 2010, was sprung from the van by masked men by HMP Hewell Grange in Worcestershire.
The men have been arrested on suspicion of conspiracy to assist in his escape.
A £10,000 reward is on offer for information leading to Anslow's arrest.
The 32-year-old, from Tipton in the West Midlands, has been on the run since his escape on 23 January 2012.
Staffordshire Police has said officers are keeping an open mind about whether he still remains in the UK.
He was charged in connection with the murder of Richard Deakin in Chasetown in July 2010.
West Mercia Police said: "Seven men were arrested this morning in connection with the prison escort van escape of John Anslow.
"All of the men have been taken to police stations in West Mercia."
Two arrests were made in Birmingham, two in Dudley, and one in Redditch.
The remaining suspects were already in custody at the time of their arrest, police said.