Deyan Deyanov sentenced for Briton's Tenerife beheading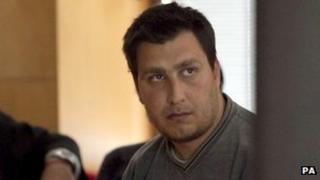 A Bulgarian man who murdered and beheaded a British woman in a Tenerife supermarket has been sentenced to 20 years in a secure unit in Spain.
Deyan Deyanov, 22, was convicted last week of the attack on Jennifer Mills-Westley, from Norwich, in May 2011.
The sentence was the maximum possible, and has been requested by prosecutors.
The family of Ms Mills-Westley has criticised the authorities in Spain and Britain over a series of errors in dealing with Deyanov.
He had previously been detained in hospitals in north Wales and in Tenerife.
The trial heard how Ms Mills-Westley, a grandmother-of-five who had retired to the Spanish island, was repeatedly stabbed and then beheaded at a Chinese supermarket near the beach in the resort of Los Cristianos.
The Bulgarian, who was homeless, has been diagnosed with acute paranoid schizophrenia. When arrested, he admitted he had used crack cocaine and LSD.
On the morning of the murder, Deyanov had walked into another shop and asked for a knife, saying he was going to kill someone.
The court accepted that he carried out the crime during an acute attack of the chronic paranoid schizophrenia that he suffered and accepted that he was not criminally responsible owing to his mental illness.
However, it ordered him to pay 100,000 euros (£86,000) to Ms Mills-Westley's daughters Sarah and Sam.
In a statement after the trial, they said lessons needed to be learned from the case.
"It is clear to us that there has been a catalogue of failings; unfortunately it is now left to us to piece these together as we still have so many unanswered questions," it said.
"We would like to make a plea that the care of people like Deyan Valentinov Deyanov is taken more seriously. He is a young man who has clearly been failed by a number of authorities, in the UK, Spain and most likely others."