Hereford Nelson memorial: Oak sapling planted on Castle Green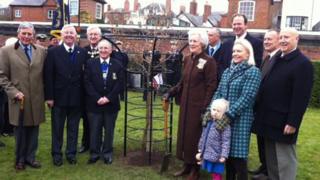 An oak tree commemorating Lord Nelson has been planted in Hereford, near a column in memory of the admiral.
The oak sapling has been grown from an acorn collected in a plantation established in the Forest of Dean after Nelson's death in 1805.
Hereford put up the column in memory of Nelson in 1809, seven years after he had been made a freeman of the city.
The sapling has been planted in Redcliffe Garden on Castle Green, within sight of the column.
The original Trafalgar Oak Plantation was planted in the Forest of Dean following Nelson's death at the battle of Trafalgar.
Two years earlier, while staying at Rudhall Manor, Ross-on-Wye, Nelson had urged the Admiralty to plant more oak trees in the area to use in the building of British warships.
In 2005, to mark the 200th anniversary the battle of Trafalgar, 2,000 acorns were collected from the plantation
The one planted on Castle Green is number 1,990 and is dedicated to the Royal Naval Association.