Shafilea Ahmed death: Serious case review call by charity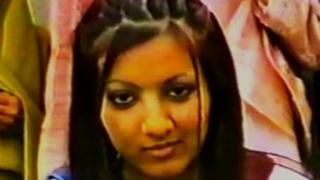 A charity for victims of honour crime is calling for a serious case review into Shafilea Ahmed's murder.
The 17-year-old went missing from her home in Warrington, Cheshire, in 2003. Her body found six months later.
She was suffocated by her parents Iftikhar and Farzana Ahmed after years of abuse.
Karma Nirvana said it has asked Warrington Local Safeguarding Children Board to investigate. It has yet to comment.
Shafilea went missing on 11 September 2003 and was reported missing by a teacher a week later.
After several police appeals to find her, workmen found her decomposed remains in the River Kent in Cumbria in February 2004 and she was identified by her dental records and jewellery.
'Definite triggers'
Karma Nirvana project manager Anup Manota said: "Serious lessons must be learnt from the tragic death of Shafilea so it never happens again.
"There were definitely flaws in this case. There were definite triggers and discussions about the threat of Shafilea being taken to Pakistan and being forced into marriage."
He said all organisations involved could learn from the mistakes made.
The breakthrough in the case came when Shafilea's younger sister, Alesha Ahmed, was arrested in connection with an armed robbery at the family home in August 2010.
It was in a police interview that she said she had seen her parents kill her sister seven years earlier.
Following a trial at Chester Crown Court, Shafilea's parents Iftikhar and Farzana Ahmed were jailed for life for her murder in August.
Mr Justice Roderick Evans ordered them both to serve a minimum of 25 years imprisonment.
The prosecution claimed she was murdered by her parents because they believed she brought shame on the family.