Compromise over Hull City v Huddersfield travel dispute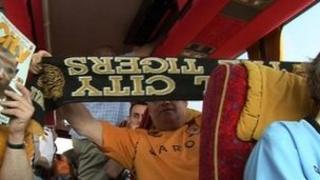 A compromise has been made in the row over travel and ticket restrictions for Hull City's game at Huddersfield Town.
West Yorkshire Police had said only away fans arriving on official coaches would be allowed into the Championship clash on 30 March - angering fans who did not live in the Hull area.
Police have now agreed to allow Hull fans free car parking at a service station on the M62.
Hull City said it was the safest solution, even if not ideal for fans.
In a statement, West Yorkshire Police said it had listened "carefully to the concerns of fans and those who have raised concerns on their behalf".
'Higher risk'
Fans would be able to park for free at the Hartshead Moor services between junctions 25 and 26 of the M62.
They would be stewarded by Hull City officials to collect their tickets before being transported to the stadium by official buses, the force said.
Disabled fans would not be affected by the transport arrangements and were free to travel to the game as usual, police added.
The force maintained "policing higher risk fixtures later in the afternoon increases the likelihood of disorder over a longer period of time and impacts upon policing the night-time economy".
Hull City said: "This is not the ideal solution for the club or its fans. However, with a further increase in the ticketing allocation to 1,700, we believe this is the most practical and safest solution."
Legal threat
The kick-off time for the match had been changed to 17:20 GMT to allow Sky to broadcast it live.
West Yorkshire Police previously said it had limited tickets for Hull fans to 1,500 and was making them travel on official coaches to avoid trouble from all-day drinking.
Louis Cooper, a 15-year-old Hull fan from Manchester, had threatened legal action against West Yorkshire Police over the travel and ticket restrictions.
And John Miles, a Hull fan living in Huddersfield, had told the BBC he would have to travel the 71 miles (114km) to Hull and then back to Huddersfield on an official coach to see the match.
He said: "Effectively my match-day travel, which would be 20 minutes in each direction, will be extended to somewhere above six-and-a-half hours."