Wakefield rejects plan for single Diocese of Leeds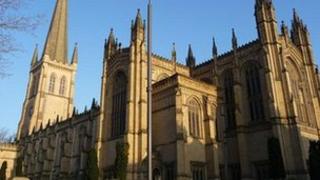 Members of an Anglican church diocese have rejected plans to merge it with two neighbouring ones.
Under Church of England plans, the dioceses of Ripon and Leeds, Bradford and Wakefield would combine to become the Diocese of Leeds.
The Wakefield diocesan synod voted against the move - despite approval from the other two.
The Archbishop of York will now have the final say over whether the merger plan can go ahead.
The vote followed a six-month consultation period which was held in each diocese in 2011-12.
The aim of the merger was to create "a strong element of devolution within a context of rationalisation", said the Diocese of Ripon and Leeds.
John Carter, from the diocese, said a larger single diocese would be more efficient.
The Diocese of Sheffield, which receives two parishes from the proposed new diocese. has already voted in favour.
Blackburn, which also receives some parishes under the plan, will vote in April.
The Dioceses Commission said it was disappointed Wakefield had voted against but said support for the proposal was strong.
The commission said the Archbishop of York, Dr John Sentamu, would make a final decision on whether the plan should go to the Church of England's general synod after the Blackburn vote.