Bishop of Hereford announces retirement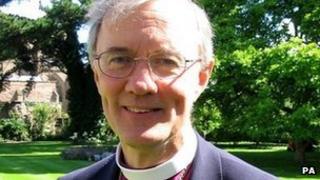 The bishop of Hereford is to retire from the role after nine years.
The Right Reverend Anthony Priddis said he would go in September, while he was still enjoying it, and become a Gloucester Diocese assistant bishop.
Bishop Priddis said the rejection of the appointment of women bishops by the Church of England general synod last year had had a "bearing" on his timing.
He has said he had planned to stay long enough for the possibility of a woman being appointed after him.
Bishop Priddis said: "I would have waited longer if the decision of our general synod had been different last November.
"The problem is that with our general synod decision it's now rather uncertain what the timing will be."
A service of farewell is being planned for Hereford Cathedral on the afternoon of 7 September.
Bishop Priddis said: "In many ways I would be happy to stay.
"But I think it's a bit like a party, you should leave while you are still enjoying it. It has been a huge privilege to serve the people of the diocese."
The diocese covers Herefordshire, south Shropshire, parts of Worcestershire and 12 parishes in Powys and Monmouthshire.