A great night out for Inside Out at RTS awards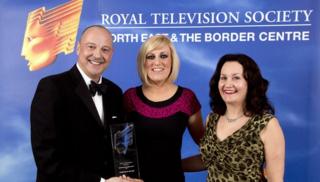 Getting recognition from your peers is hard to beat.
Here in the North East & Cumbria we have an annual shindig where the BBC and ITV news teams, along with colleagues from the world of film, drama, commercials and animation, slug it out to be named top dog in their field.
The Royal Television Society's regional awards are actually quite an amicable affair, but with enough of an edge of rivalry.
You take the rough with the smooth.
Some years you win, others you fix a smile and applaud as someone else's name is called and you try not to wish they trip as they head towards the podium.
In that respect it's just like the Oscars, but on a much more restrained budget.
Thanks goodness we're not expected to sing or dance on stage, even if Red Nose Day is rapidly approaching.
Also, to the audience's huge relief we don't have acceptance speeches.
Gold envelope
As it happens I do have a long list of people I would like to thank, as I was fortunate to win the award for 'Best Presenter'.
I'm thrilled to say the other two to be shortlisted in this category were Look North's Carol Malia and Hannah Bayman. A BBC clean sweep.
That my name happened to come out of the gold envelope was probably down to a photo finish.
The team of Inside Out producers are the ones that push me in front of the camera, and make sure I perform, so they are the ones I have to thank for being the one to pick up this gong.
This year we have to hand it to our friends at Tyne Tees who picked up the prestigious awards for Scoop and Best Journalist - take a bow Kenny Toal.
We gave them a run for their money though as Inside Out was shortlisted twice for the Scoop award.
We'd entered our dramatic Grayrigg Rail Crash re-union, where the family of the woman who died met up with the man who should have checked the points that led to the fatal derailment.
Also picked out by the judges was our film where we uncovered the true and heart warming origins of the classic song Seasons in the Sun.
Celebrating excellence
In the best factual category, the Inside Out unit was again shortlisted twice, for our documentary The Queen & I and one of our episodes which focussed on health.
Also shortlisted for excellence in their field was our graphic designer, Tony Bannister and cameraman, Steve Paton.
So we only came away with one actual award to put on our mantelpiece, but all our shortlisted entries were shown to a star-studded audience filled to the rafters with our peers.
That in itself is a great feeling.
A few celebratory drinks in the company of the cream of the region's TV talent whilst rubbing shoulders with the cast of Hebburn (Best Drama winners), Jim Moir (Vic Reeves), Baroness Tanni Grey-Thompson, Joe McElderry, to name-drop just a few, is still a thrill.
And there's always next year!