Head challenges Michael Gove over 'defeatism' comment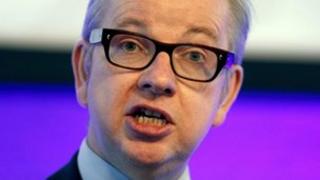 A head teacher has challenged Education Secretary Michael Gove to visit the area after comments about "the sense of defeatism" in east Durham schools.
Conservative Mr Gove's comments, made in a speech at an event in London last week, have sparked anger.
Sedgefield Labour MP Phil Wilson called on him to apologise for his "outrageous" remarks.
But Mr Gove said he would not apologise for standing up for better education for children.
Mr Gove made his comments at an event to mark the launch of a book on under-achievement in England's schools.
He said: "There is a real problem of ambition in certain traditional communities, like east Durham, which needs to change."
He went on to say that "when you go into those schools you can smell the sense of defeatism".
'Sweeping generalisation'
Julie Craggs, head teacher of Acre Rigg Academy, a junior school in Peterlee, said there had been fury at the comments.
She said: "We have worked really hard over the last three-and-a-half years to raise standards, raise aspirations, raise attainment and then to have a sweeping generalisation made by somebody who is supposed to assist schools and make schools improve is quite demoralising not only for the children in their hard work but also for the staff."
She said there was not a sense of defeatism and that pupils were motivated and enthused.
"I don't disagree with him about improving standards in schools and raising aspirations, but why target east Durham?" she said.
She said her year six pupils were writing to Mr Gove and that she would like him to visit her school and schools in the area.
Mr Wilson called on Mr Gove to apologise in the House of Commons.
But Mr Gove said: "I absolutely will not apologise to the people of east Durham for standing up for better education for their children."