Dale Cregan 'put a grenade in a man's mouth'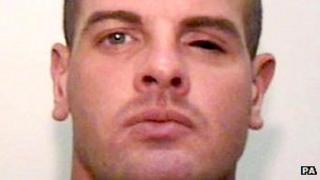 Dale Cregan put a grenade in the mouth of a man he held captive while on the run from police, a court has heard.
Jermaine Ward, 24, claimed Cregan and another man Anthony Wilkinson, 33, also threatened to shoot him and his family while keeping him as a virtual "slave".
Cregan, 29, was on the run after allegedly murdering father and son, Mark and David Short during a feud.
He has previously admitted killing PCs Fiona Bone, 32, and Nicola Hughes, 23, in a gun and grenade attack.
Cregan had been a wanted man after Mark Short, 23, was shot in the Cotton Tree Pub, Droylsden, Manchester, on 25 May last year.
'Heard a bang'
It is alleged Jermaine Ward played an "integral part" in the later attack on David Short, 46, at his home in Clayton, Manchester, 10 weeks after the murder of his son.
The jury at Preston Crown Court heard Mr Ward told police he had agreed to drive Cregan and Mr Wilkinson to David Short's house.
He said the pair told him to wait in the van, before returning after allegedly killing Mr Short.
Mr Ward told officers in an interview read to the jury: "I heard a bang, Dale has got blood on him. I knew something had happened, he's like, 'drive, drive'.
"I was shaking. He rammed a gun at the side of my head. He told me which way to drive."
Mr Ward said he was taken to a hideout in West Yorkshire and kept as a "slave" by Cregan and Mr Wilkinson.
Louise Brandon, prosecuting, said: "They put a gun to his head and told him he was staying with them.
'Gun to head'
"If he tried to escape they would go to the hospital and kill his brother.
"Every time he asked them if he could go, they said they would kill him or put a gun to his head or put a grenade in his mouth."
Mr Ward told police Cregan and Mr Wilkinson spent their time watching TV and laughed when their faces were on the news.
He said they had a bag with two black and one silver gun inside and around 20 hand grenades.
After nearly two weeks he was driven away and thrown out of the van, after which he gave himself up to police in Huddersfield, he said.
He denies murder, one count of attempted murder and causing an explosion.
Cregan and Mr Wilkinson, along with Francis Dixon, 37, from Stalybridge, all deny the murder of David Short, the attempted murder of Sharon Hark on the same day, and a single charge of causing an explosion.
Mr Wilkinson is additionally charged with possession of a firearm with intent to endanger life and Mohammed Ali, 32, from Chadderton, Greater Manchester, is accused of assisting an offender.
Alongside Cregan, of no fixed address; Damian Gorman, 38, from Glossop; Leon Atkinson, 35, from Ashton-under-Lyne; Luke Livesey, 27, from Hattersley; Ryan Hadfield, 28, from Droylsden; and Matthew James, 33, from Clayton, are all accused of murdering Mark Short.
They are also all accused of the attempted murders of three others in the pub at the time - John Collins, Ryan Pridding and Michael Belcher.
All six defendants deny the charges.
The trial continues.