Eddie Maher £1.2m theft: Search continues for possible accomplices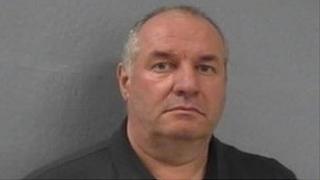 Possible accomplices of Eddie Maher after his 1993 theft of a security van containing £1.2m are still being sought by police, a court has heard.
Maher, 57, formerly of Essex, was jailed for five years after admitting the theft at Southwark Crown Court.
He spent almost 20 years on the run in the US.
Prosecutor Richard Southern said: "We believe the defendant received assistance from people in this country in the months after the offence."
Mr Southern said it seemed likely Maher had travelled to the US using his brother Michael's passport.
"Michael Maher has now gone off to Spain, as far as we know," Mr Southern added.
'Physical resemblance'
The court heard that Michael Maher's passport was used to go through border control on 22 February 1993, when a person purporting to be him travelled with another man, Terrence Bender.
"There was a physical resemblance between the defendant and Michael Maher and we say he would have been able to use his brother's passport," Mr Southern said.
The court heard forensic evidence showed an acquaintance of Maher's "had contact with" the getaway vehicle around the time it was stolen in November 1992.
Detectives also found phone calls between this man and Michael Maher in the run-up to the theft and the days after it.
At one point the suspect had a "lengthy" conversation with the passport office and also had direct contact with Maher.
He visited the US in March 1993, returning that May.
Visits to US
Mr Southern said this trip coincided with the issue of Maher's false documents which were used to support his new identity.
Another acquaintance, Michael Sulsh, also made trips to the US around that time, Mr Southern said.
"Sulsh and Bender have not been arrested and inquiries continue," he added.
Maher's partner Deborah Brett, 47, his sister, Margaret Francis, 64, and Paul Muggleton, 54, from Woodford Green, east London, are all on bail after being arrested on suspicion of assisting an offender and conspiracy to commit theft.