Canterbury Howe Barracks closure 'an opportunity'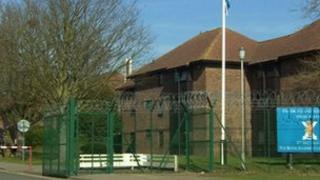 The closure of Howe Barracks in the shake-up of the UK's armed forces is an opportunity for Canterbury, the city council has said.
Defence Secretary Philip Hammond has confirmed the base will be "disposed of" when personnel are redeployed.
Some 600 people are set to move out when the 5th Battalion Royal Regiment of Scotland moves to Edinburgh in 2014.
Members of the council's Conservative and Liberal Democrat groups said it was a "great opportunity".
Leader of the Conservative-run council John Gilbey said: "Much as we will very much miss the soldiers and all the relationships that we've developed over the years, I think this is a great opportunity for the city council."
'A proper community'
Liberal Democrat leader Alex Perkins said the site was key to Canterbury's transport and infrastructure problems.
He said: "There is obvious sadness at the closing of the [Howe] barracks, but we are left with a huge opportunity."
Mr Perkins called for the co-ordinated development of the land with infrastructure such as schools, medical facilities and public open space.
"What we must avoid is just building housing estates. We have to build a proper community," he added.
Howe Barracks has housed soldiers from the South East since the 19th Century.
Other South East bases to be affected are the Folkestone home of Headquarters 2nd (South East) Brigade, which will be vacated when it merges with another brigade, and Pirbright barracks in Surrey, which will become home to the 1st Battalion, The Welsh Guards.