Speedway's Lee Richardson 'aware of the danger'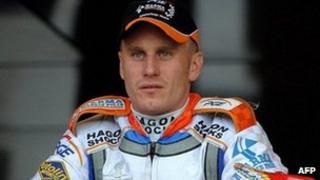 British international speedway rider Lee Richardson, who died in a league race in Poland, would have known the sport's risks, an inquest has heard.
The Lakeside Hammers captain, 33, died in May after hitting the safety fence during the event.
Mr Richardson, from St Leonards, was taken to hospital where he suffered a cardiac arrest.
The inquest at Hastings Magistrate's Court heard his front wheel had touched the rear wheel of another rider.
Coroner Alan Craze said: "It's a chance that they accept."
Mr Richardson, known as Rico, was stretchered off the track and transferred to hospital where he suffered a cardiac arrest and was pronounced dead.
Mr Craze said: "At the end of the day, you have got to recognise that brave and courageous people like him who want to take part in sport which carries with [it] a considerable degree of danger know perfectly well that there is a chance that something like this can happen."
The inquest heard Mr Richardson was about to overtake on the first bend of a race at the Olympic Stadium in Wroclaw on 13 May.
He was thrown at "full force" into a barrier, mechanic Dariusz Lapa said.
"He would have been well aware of the dangers involved in his sport," the coroner said.
"It's a chance that they accept in most cases."
'Lived the dream'
Mr Craze recorded a verdict of accidental death stating that Mr Richardson, a father of three, had died following a motorcycle accident.
"I can't look at it and say rider error, and I wouldn't want to," he said.
Mr Richardson's mother Julie, who attended the inquest with the rider's wife, Emma, said: "It was something he always wanted to do ever since he was a young boy.
"He fulfilled his dream. He lived the dream.
"I never watched him and that's probably through fear, being his mum."
Mr Richardson raced for clubs in Coventry, King's Lynn, Poole, Reading, Swindon and Eastbourne during his 17-year career.