Ski death girl Poonam Bhattal 'said she was fine'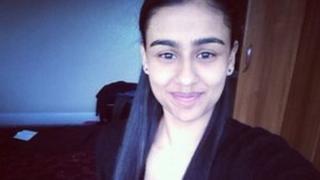 A teenage girl who died after falling from a ski-lift got up and said she was "fine" before collapsing 20 minutes later, her parents have said.
Poonam Bhattal, 13, from Langley, Slough, fell 20ft on to the piste in Claviere in the Italian Alps last month.
She was on a half-term trip to the resort with her school, the Guru Nanak Sikh Academy in Hayes in west London.
The school closed for the day while Poonam's funeral took place earlier.
Because the school has a Sikh temple on site, her family had requested a gathering there for prayers ahead of the cremation at the South West Middlesex Crematorium in Feltham.
Her coffin, covered in white roses with a picture of popstar Justin Bieber, who the teenager was a huge fan of, was carried into the school hall where about 500 mourners lined up to pay their respects.
Poonam's fellow pupils were invited, as were other members of the community. The school said students under the age of 16 had to be accompanied by a parent.
A funeral procession took the coffin to the crematorium. Mourners then returned to the school for more prayers and a meal.
'Traumatised people'
Greg Hall, vice principal of the Guru Nanak Sikh Academy, told BBC Asian Network: "Everyone has given tremendous support to the family at this particularly difficult time.
"I think they've coped better for the fact that they're a devout Sikh family and I'm sure it's their view that this is the will of God, but it's been incredibly difficult for everyone.
"The parents, the whole family and many of the friends have been very, very strong.
"It's just supported everyone because there are so many traumatised people, particularly as you can imagine, the staff on the trip - to take responsibility for children and find yourself coming back without one of them is just very, very hard."
A family statement released by the Foreign Office said: "Poonam got up and said: 'I'm fine, I'm fine, I promise' and wanted to join her friends back on the chair lift.
"Poonam sadly passed away from internal bleeding 20 minutes later, the cause of the death was due to a small laceration of the right superior pulmonary vein."
Her sister Amreeta said: "My sister had a heart of gold, we were getting closer as we were getting older and she will always live in my heart."
The school has offered counselling to children and staff who witnessed the fall.
Poonam's death came just hours before the funeral of 10-year-old Jemima Prees, from Wiltshire, who died earlier this month in a ski accident in the Austrian Alps.
Jemima was killed when she hit a tree at high speed while on a half-term holiday at the Mayrhofen resort near Tyrol.