Views sought on Surrey M3 variable speed limit plan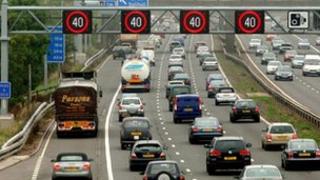 Consultation has begun on a plan to introduce variable speed limits on the M3 in Surrey.
The Highways Agency said the scheme was planned for 13.4 miles (25 km) of the M3 between junction 2, where it meets the M25 near Chertsey, and junction 4a, near Farnborough in Hampshire.
The scheme will see speed limits displayed overhead and the hard shoulder converted to a traffic lane.
An eight-week consultation period will continue until 24 May.
Road surface sensors
Project manager Simon Kirby said the upgrade would ease congestion and make journeys more reliable for 130,000 road users, including hauliers and commuters, who used the road each day.
He said variable speed limits were used to manage traffic during periods of congestion or after an incident, by slowing down vehicles or closing lanes.
The technology behind the variable speed limit system uses sensors in the road surface to detect the speed, volume and flow of traffic.
The system then calculates the optimum speed to keep traffic moving and reduce "stop-start" traffic, which leads to congestion.
Electronic signals on gantries are used to display the speed limit.
Similar managed motorway schemes have already been brought on the M42 and M6 in the West Midlands, and the M25.