Army colonel Robert Jolleys jailed for school fee fraud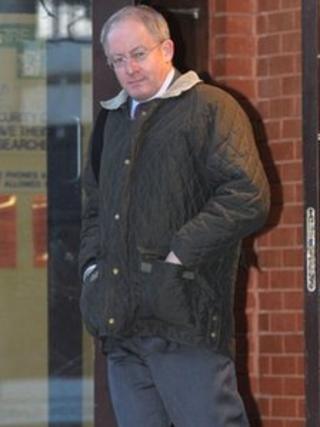 An ex-Army officer who defrauded taxpayers of nearly £200,000 to send his children to a private school has been jailed for a year.
Robert Henry Jolleys, 52, of Woodlands Park, Clitheroe, claimed the money to send his three children to Stonyhurst College, in Lancashire.
Swindon Crown Court heard he was not entitled to claim because he was separated from his wife.
Jolleys had denied 11 counts of fraud, deception and forgery.
Recorder Jeremy Wright told Jolleys he had committed a "serious, substantial fraud" over five years between 2004 and 2009.
Jolleys, known as Henry, sent sons Rupert, 22, Charles, 20, and his youngest, aged 15, to the £28,000 a year Roman Catholic Stonyhurst, whose alumni include Sir Arthur Conan Doyle (the creator of Sherlock Holmes), former BBC Director General Mark Thompson and satirist Chris Morris.
The court was told Jolleys used the Army's continuity of education allowance (CEA) which enables service personnel to send children to boarding school to prevent disruption to schooling caused by postings around the UK and abroad.
Jurors heard that the lieutenant colonel kept up an elaborate charade by maintaining to his superiors that he was still married and that his wife Judith lived with him in his Army quarters when they were separated.
His ruse was only rumbled when his now ex-wife rang his superior officer in the summer of 2009 and asked "Where's Henry?", sparking an investigation.
The judge told him: "This is not just a case of letting things slip.
"You are an intelligent man and knew what you were doing."
The officer, used the "eye-watering" sums of money - totalling £188,060.11 - to provide a privileged education for five years that he could not have otherwise afforded, his trial heard.
Jolleys was legitimately claiming the allowance, which pays up to 90% of the fees, until he separated from his wife.
'Degenerative disease'
He was convicted of three charges of obtaining a money transfer by deception, three charges of fraud and one charge of the forgery of his ex-wife's signature on a bank form, after a trial in January.
His solicitor Luke Blackburn, said his client, who has retired from the Army on a pension equivalent to a "modest salary", had a distinguished career as an educator serving in Northern Ireland, Bosnia and Sierra Leone.
The latter of these three had seen him catch an infection which had led to degenerative kidney disease, he added.
Mr Blackburn said: "There may be a number of factors that caused him to act as he did.
"You may feel he was too proud, or too blinkered or too stubborn or too embarrassed about the change fate had wrought on his life to do his duty."
The Army is seeking to recoup the money it paid out.