Kenny Ball Jazzmen to play on, says trumpet legend's son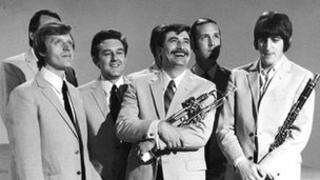 The Kenny Ball Jazzmen will continue despite the death of their founder and leader.
The jazz star's son Keith told BBC News: "The legend lives on. We will go on playing and touring as long as people still want to hear us."
He was speaking just a day after his trumpeter father's death in hospital from pneumonia on Thursday, aged 82.
Keith Ball has been fronting the band on vocals since his father became ill recently.
He said he had received hundreds of messages of condolence in the 24 hours since his father died from fans and fellow musicians all over the world.
"We have had calls and emails from everywhere and we really want to thank everyone," he said. "The fantastic support has resolved us to continue."
'Genius father'
Keith Ball led his father's band at the first concert since his death, at Grantham on Friday night.
It was a traditional "Three Bs" concert - Ball, Barber and Bilk - and there was a packed house for the three-and-a-half hour show at the Meres leisure centre.
The leaders of the other bands at the event, Chris Barber and Acker Bilk, both paid tribute on stage to Ball, whose death has ended an era of more than half a century of friendship and affection between the men.
The hour-long session by the Kenny Ball Jazzmen featured about a dozen numbers, including a string of the band's 1960s hit singles, including Samantha, Sukiyaki, March of the Siamese Children and, of course, Midnight in Moscow.
Keith said the band had selected all their hits as a nostalgic tribute to Kenny, whom he described as his "genius father".
He entertained the audience by recounting anecdotes about all the tunes they played and his father's involvement with them.
Kenny Ball founded his band 55 years ago at the start of the postwar traditional jazz era, at the same time as "rival" bands were formed by trombonist Barber, now also 82, and clarinetist Bilk, aged 84, who now plays from his wheelchair.
The three bands have played together at concerts - each performing for about an hour apiece - for many decades. Their joint album, The Best of Ball, Barber and Bilk, reached number one in the UK Albums Chart over 50 years ago in September, 1962.