Robin Hood 'may be from Kent not Nottingham'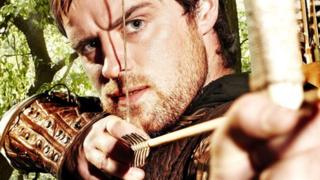 Robin Hood and his merry men may have been a group of Kent archers who fought a guerrilla war during a French occupation, a historian has claimed.
Sean McGlynn said the outlaw who robbed the rich to feed the poor may not have lived in Nottinghamshire's Sherwood Forrest.
Instead, he claims the inspiration for the legend may have been resistance fighter William of Kensham.
He fought in the Kent Weald against Prince Louis' French forces in 1216.
Mr McGlynn said William would have travelled to the Nottingham area because it was the main headquarters of the English army at the time.
'Resistance fighter'
Writing in the magazine History Today, Mr McGlynn said: "It's hard to find another contender for the Robin Hood story from this age or afterwards who is both a hero and an outlaw.
"In William we have both - a feted resistance fighter, loyally protecting the Crown, but also, from Louis' perspective, an egregious outlaw defying the righteous rule of the imposed new regime."
Mr McGlynn said he led a band of archers who attacked the French forces in the forests of the Kent Weald before the 18-month occupation ended.
He added: "The most probable truth behind the Robin Hood legend is that over time storytellers incorporated and conflated various characters from a range of stories and settled on the instantly recognisable name of Robin Hood as the woodsman."