Peterborough Utd to pay for paint-stained fans' cleaning bills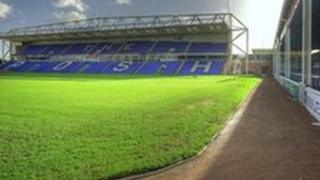 Peterborough United have offered to pay the dry cleaning bills of fans whose clothes were damaged by what appeared to be white paint.
Supporters at London Road began tweeting about "paintgate" during Saturday's 0-0 draw with Ipswich Town.
Peterborough said no areas had been painted recently and blamed the problem on "deterioration" caused by the damp.
One Peterborough fan tweeted: "Ironically, watching paint dry was more entertaining than the match."
'Freak occurrence'
Owner of the Championship club Darragh MacAnthony apologised and tweeted: "I'm used to abuse about us losing, but about paint is a new one."
MacAnthony, who was out of the country at the time of the match, added: "Let me apologise all way from the States about issues today.
"Club will fix/sort any items damaged/stained by today's freak occurrence."
Fans complained about paint on their clothes, dubbing the incident "paintgate" on the Twitter social networking site.
'Coat ruined'
One wrote: "Seems to be hundreds covered in it. Hope the insurance is up-to-date."
Another said he planned to complain, adding: "Expensive Barbour coat ruined by #paintgate."
In a statement, the club said: "Following recent excessive rain and damp weather conditions, some painted wall areas in the home and away terraces experienced localised deterioration which resulted in a chalky surface film forming, which caused problems with clothing on contact.
"These areas were last painted in the close season."
The club apologised, and added: "We have been informed these marks can be washed out."
It said it would reimburse the dry-cleaning cost of an individual item if a receipt was provided.