Crimestoppers bids to curb Thames Valley illegal tobacco trade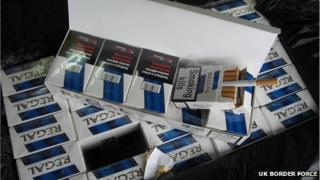 A campaign to cut trade in illegal tobacco has begun following the seizure of more than 30 million cigarettes.
Crimestoppers' "It's a Drag" campaign in Thames Valley comes in the wake of a UK Border Force find at Southampton Container Port earlier this month.
The cigarettes, discovered in a shipment from China, would have cost the taxpayer £8m in unpaid excise duty.
Illegal or illicit tobacco is classified as tobacco that is smuggled, bootlegged or counterfeit.
There were a total of 19.4 million Lambert and Butlers and 10.9 million Regal cigarettes in the three containers bound for Glasgow, all of which are believed to be counterfeit.
Philip Gomm, from Thames Valley Crimestoppers, said illegal tobacco trading was misconceived as a "victimless crime".
He said: "It can be easily overlooked and considered no more than holidaymakers simply doing someone a favour.
"Everyone loves a bargain, but the sale of illegal tobacco can have a knock-on cost to local communities."
The campaign is being delivered through radio adverts, posters, leaflets and an advert on Facebook.