Road rage murderer Kenneth Noye loses attempt to appeal sentence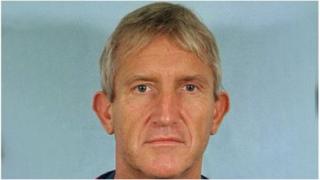 Road rage murderer Kenneth Noye has lost an attempt to reduce his jail sentence over a 1996 killing.
The Court of Appeal refused him permission to challenge the minimum 16-year term he was ordered to serve in 2000.
He was given a life sentence for murdering Stephen Cameron, 21, on an M25 slip road at Swanley, Kent.
At his trial he admitted wielding the knife but claimed he had acted in self-defence in a fight with Mr Cameron.
'Wholly without merit'
The Court of Appeal was told Noye had fled to Spain following Mr Cameron's death and was arrested and extradited to England.
His lawyers argued the nine months he spent on remand in Spain should have been taken off his jail term.
However, the three appeal judges dismissed the application saying it was "wholly without merit".
Noye was also criticised for not returning to England when he knew police wished to question him.