Property developer buys five BAE Systems sites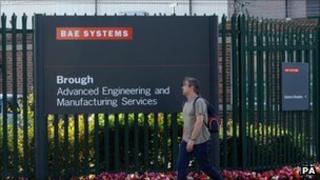 BAE Systems has claimed the sale of five of its sites to a property developer will help create jobs.
The aerospace firm announced it had sold facilities in Yorkshire, Staffordshire, Lancashire, Worcestershire and Hampshire to Bridgehouse Capital.
It said the two companies would regenerate the sites with an investment "in excess of £250m".
The financial details of the deal have not been disclosed.
In a statement BAE Systems said: "The partnership with Bridgehouse will have no impact on our operational activities.
"Several sites will continue to have a BAE Systems presence, while other sites had already changed use prior to the deal with Bridgehouse and were vacant.
"This deal enhances our ability to deliver redevelopment plans - including employment and economic benefits to the local communities and underpins our commitment to developing these sites."
The sites included in the deal are Brough in East Yorkshire, Chorley in Lancashire, Featherstone in Staffordshire, Summerfield in Worcestershire and Waterlooville in Hampshire.
They join BAE Systems's Filton factory in Bristol which was bought by Bridgehouse Capital in December.