SAS gun appeal: Danny Nightingale 'pressured' into guilty plea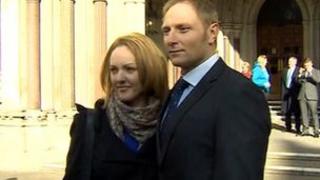 An SAS sniper jailed for possessing a pistol faced "undue pressure" to plead guilty, the Appeal Court heard.
Sgt Danny Nightingale, from Crewe, admitted at a court martial in November to possessing the 9mm Glock pistol and 338 rounds of ammunition.
But he says he pleaded guilty after the original judge told his barrister that being convicted after a not guilty plea could result in a five-year jail term.
Nightingale is appealing against the conviction.
Last year, the Court of Appeal was told that Nightingale had forgotten he had the gun and cut his sentence to 12 months and suspended it.
The sniper, who said he was given the gun as a present while serving in Iraq, was then released early from his 18-month sentence.
In his latest appeal, William Clegg QC, for Nightingale, gave a written submission which said: "He appeals against his conviction on the ground that undue pressure was placed on him to plead guilty by his then counsel, Mr Ian Winter QC.
"It is submitted that leading counsel fell into error and placed undue pressure on the applicant.
"It renders the conviction unsafe and the plea itself is a nullity."
Outlining the arguments orally, Mr Clegg said the "improper pressure" came when Mr Winter told Sgt Nightingale what the original trial judge - Assistant Judge Advocate General Alistair McGrigor - "was saying".
"What he [Sgt Nightingale] was told by Mr Winter was, 'If you plead not guilty and are found guilty you will get five years. If you plead guilty there is a very good chance you will not go to prison at all'," Mr Clegg told the appeal court.
In response David Perry QC argued there was nothing unusual in the way Mr Winter had advised Sgt Nightingale about the difference in sentences passed after guilty pleas and those passed following trials.
Mr Perry said: "What the defendant got was no different from the advice given in any case."
He added that if the conviction was quashed, a retrial would be sought by the prosecution.
The pistol and ammunition were found by West Mercia Police at Nightingale's Hereford accommodation.
He had been serving his sentence at the Military Corrective Training Centre in Colchester, Essex, prior to his release last year.
The hearing continues.
This story was amended on 25 March, 2013 to clarify that in evidence it was heard that Ian Winter QC gave advice to his client based on the original trial judge's comments.