Eddie Maher case: Arrested trio 'will not face action'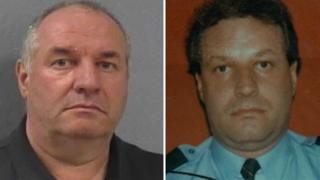 Three people arrested as suspected accomplices of jailed fugitive "Fast Eddie" Maher will not be prosecuted, police have confirmed.
Maher, 57, was jailed last week for the 1993 theft of a security van containing £1.2m in Felixstowe, Suffolk.
His partner Deborah Brett, 47, sister Margaret Francis, 64, and Paul Muggleton, 54, had all been on police bail following their arrests.
Police said no further action would be taken against them at this stage.
Ms Brett and Mrs Francis, from Eastbourne, East Sussex, were arrested on 18 December on suspicion of conspiracy to steal and assisting an offender.
Mr Muggleton, from Woodford Green, east London, was arrested on 15 January on suspicion of conspiracy to commit theft.
A spokesman for Suffolk Police said: "Three people arrested and released on police bail in connection with the investigation into a security van theft outside Lloyds Bank, Felixstowe, in 1993 will receive no further police action at this stage, and have had their bail cancelled.
On the run
"A decision has been made by the Crown Prosecution Service and senior investigating officers at Suffolk Police that no further action will be taken against them at this stage."
Maher, originally from South Woodham Ferrers, Essex, spent almost 20 years on the run in the US following the theft of the Securicor van he was driving.
He was arrested in Missouri in February 2012.
He was jailed for five years at Southwark Crown Court after entering a last-minute guilty plea.
During the hearing, prosecutors revealed that they were looking to trace three other people in connection with the investigation.
They included Maher's brother, Michael Maher, whose identity he adopted for part of his time on the run and who is now believed to be in Spain.
The other two men are acquaintances Michael Sulsh and Terrence Bender who are believed to have travelled to the US soon after Maher's disappearance.
It is understood attempts to trace them are continuing.