Malcolm Webster murder case brother wants victim law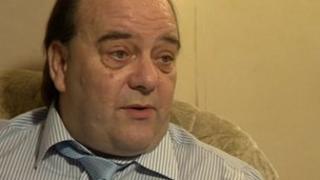 The Kent brother of a woman murdered by her husband has called for new legislation in England to help support victims of crime and their families.
Peter Morris has already given his views to the Justice Committee in Scotland, where his sister was murdered by Malcolm Webster from Surrey in 1994.
He has also said there is an urgent need to help victims in England.
The charity, Victim Support, has backed his plea. Kent MP Mark Reckless said helping victims was police work.
In Scotland, the government is considering a Victims and Witnesses Bill which proposes to make offenders pay towards the cost of supporting victims of crime.
Mr Morris wants victims to have a single point of contact throughout proceedings, investment, and rights enshrined in law.
He said: "We don't even recognise them as people who need professional care. For the most part, they're given volunteer care. If you were a cancer patient, you wouldn't expect to have a volunteer doctor."
'Key contact'
John Hayward-Cripps, of Victim Support, said: "There are lots of entitlements to offenders. I think there should be the same type of entitlements to victims.
"The type of help they can get within the courts - what's available to them, the type of support that Victim Support offer. That should be nationally available to all victims of crime within the UK."
Mark Reckless, Conservative MP for Rochester and Strood and a member of the Home Affairs Committee, said: "A much better way of doing this is for the Police and Crime Commissioner (PCC) to actually look at that local area."
He said the PCC could work with the criminal justice system, ensure police did the right thing by victims and be the key contact for victims and the public.
In 2011, Webster was convicted of murdering his wife, Claire Morris, 32, who was originally from Kent, in a faked car crash before staging a similar attempt in New Zealand on a second bride.
He was jailed for at least 30 years.