Cycling's Tour Series to finish in Aylsham and Ipswich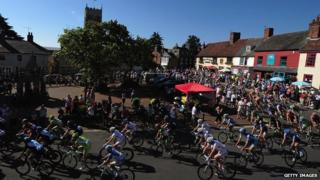 One of the UK's main cycling races, featuring two London 2012 gold medallists, is finishing in Norfolk and Suffolk this year.
The Tour Series has stages in Aylsham (13 June) and Ipswich (14 June).
The races will feature Steven Burke and Ed Clancy who were members of the men's team pursuit squad which won Olympic gold last year.
Local authorities hope it will build on the success of last year's Ipswich to Norwich stage of the Tour of Britain.
The Tour Series features 11 one-hour town centre circuit races starting in Kirkcaldy in Scotland on 14 May and finishing in Ipswich.
Last year's Tour of Britain event, featuring Bradley Wiggins and Mark Cavendish, was estimated to have attracted 170,000 people on the Ipswich to Norwich opening stage - 25,000 more than the previous year.
'Growing popularity'
Stuart Clancy, Broadland district councillor for economic development, said: "We are hugely honoured to be welcoming the Tour Series to Aylsham.
"I know local businesses and residents are extremely excited to play host to such a prestigious event and we will make it a day to remember."
Bryony Rudkin, Ipswich Borough Council's culture and leisure portfolio holder, said: "Following on from the start of the Tour of Britain last year and the growing popularity of the Sky Ride, cycling is attracting bigger audiences as well as getting more people out on their bikes."
Another star name taking part is the Newmarket-born cyclist Ross Edgar, who won Commonwealth Games gold for Scotland in 2006 in the men's team sprint alongside Sir Chris Hoy and Craig MacLean.
Redditch, Torquay and Colchester have already been announced as towns hosting Tour Series races with the rest yet to be revealed.
The routes for the Aylsham and Ipswich circuits have yet to be revealed.