Eviction fears over universal credit housing changes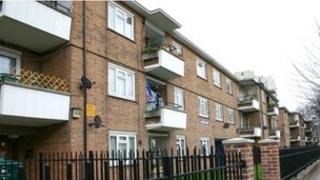 The government says it'll empower tenants, but there's growing concern that changes to the way housing benefit works could lead to more evictions.
Housing benefit as a separate payment will begin to disappear from October when it gets rolled into the new universal credit.
And that will mean another change.
Rent arrears
At the moment the millions of council and housing association tenants who claim housing benefit have it paid directly to their landlord.
But the government wants that to change under universal credit.
Instead, tenants will get the housing element of the benefit paid directly to them. They then will be responsible for paying their rent.
But when the idea was piloted in six areas of the country there was a big rise in rent arrears as some tenants failed to pass that money on.
Figures obtained by the BBC suggest arrears rose from about 2% to 11%.
The concern is that people under financial pressure will struggle to budget for their rent.
That now is worrying social housing providers.
Cestria Community Housing Association owns about 4,000 homes in Chester-le-Street in County Durham.
It believes the amount of missed rent payments could treble under direct payment to tenants.
That could cost the association £500,000 a year.
Chief Executive Paul Fiddaman said: "We're a not-for-profit company, so we plough all the money back into our homes.
"So to lose half a million pounds would prevent us building 120 new houses or investing in other community improvement projects.
"We're concerned that sometimes tenants will make poor choices about what to spend their money on, and at the end of the day that could put their home at risk.
"We're a socially-responsible landlord, but to be fair to tenants who do pay their rent, we would be forced to take action."
News skills
The association also believes most tenants would prefer the system to remain the same.
Angela Walker, who is part of Cestria's tenant involvement group certainly says she prefers the certainty of knowing her rent has been paid.
She said: "You know you're not being given the opportunity to spend the benefit on other things. The most important thing in paying bills is keeping a roof over your head.
"I'm fearful that people will spend that money and put themselves at risk of eviction."
But although the government acknowledges it needs to learn from the pilots, it believes the principle is right.
Work and Pensions minister Steve Webb said: "The skills that people need in work for example, using IT and managing their budgets are the skills we want people who are out of work to acquire, so then when they get a job they'll be more able to cope.
"So we have to treat people like adults, but then also support people who'll struggle with the system.
"Most people will cope fine, as we know from the million people in the private sector who pay their rent directly."
Landlord concerns
You won't find many private landlords who are fans of direct payments to tenants though.
But they are also concerned that the switch to universal credit could affect them.
Although housing benefit largely goes direct to tenants in the private sector, landlords can get it paid directly to them if someone has more than eight weeks of arrears.
But so far the government has failed to say whether that system will still be in place under universal credit.
That's worrying some private landlords, who also believe the monthly payments planned under universal credit will make it harder for tenants than the current fortnightly benefits.
David Cook owns a handful of properties in Sunderland. He says the uncertainty is making him wonder whether he will want to rent to universal credit claimants.
He said: "It's going to switch you off from that market place. When asked by a letting agent who you want as tenants, you're going to go for a working professional who's going to pay by direct debit and not someone on benefits."
South Shields letting agent Ajay Jagota deals with about 700 landlords like David Cook in the North East, and he says many are worried about the lack of information coming from the government.
He believes unless the introduction of universal credit is delayed for more pilots and refinements, it could see many more tenants made homeless.
He said: "Whether it be in the private or the social sector, if people get into arrears and find themselves facing eviction I fear we could end up back in the 1990s when people were in B&Bs.
"That is clearly going to be a more expensive option for the government."
The government is confident that universal credit can be designed to avoid that, but it seems some tenants and landlords remain to be convinced.