Yorkshire Ambulance Service workers vote to strike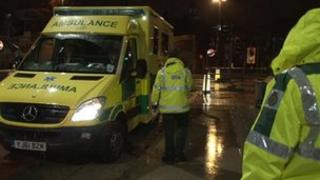 Ambulance workers in Yorkshire have voted to go on a 24-hour strike over staffing changes.
The dispute centres on plans to introduce emergency care assistants to work with Yorkshire Ambulance Service's more highly-trained paramedics.
The Unite union, which represents about 10% of the service's workforce, claims the move would jeopardise patient care.
The trust has said it is trying to maintain levels of care while making £46m savings over the next five years.
Of the 212 union members who voted, 61% were in favour of strikes and 83% for other forms of industrial action.
An overtime ban is set to begin on 26 March followed by a 24-hour strike on 2 April.
Unite regional officer Terry Cunliffe said: "It shows the depth of concern that our members feel about patient safety because of the £46m of savings that managers want to implement."
"The hardline management has responded by derecognising Unite and twice rejecting our attempts to take this dispute to Acas and to discuss the implications of industrial action."
Mr Cunliffe called for talks to avert the action.
He said: "This is a final window of opportunity for the trust to resolve this situation for the benefit of the Yorkshire public."
Stephen Moir, deputy chief executive of Yorkshire Ambulance Service NHS Trust, said plans would be put in place to "avoid any disruption to patient care".
"We would like to reassure members of the public that the changes we are introducing to our A&E workforce will enable us to continue to deliver a high quality and responsive service to patients and they will always remain our top priority."