Rescue after walkway falls into Winsford amusement arcade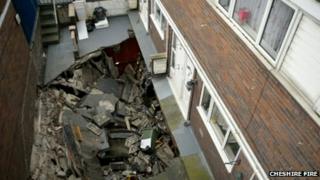 Two trapped residents were rescued after a walkway connecting flats collapsed onto an amusement arcade in Cheshire, the fire service said.
Firefighters were called at 10:15 GMT to Fountains Court, Winsford. The men were trapped in a row of twelve flats above Winsford Cross Shopping Centre.
Crews evacuated shops near Shaw's Amusements within the shopping centre and cordoned off the scene.
The fire service said there were no reports of any casualties.
'Balcony had gone'
Veysel Komurcu, one of the residents in the flats above, was trapped for twenty minutes and was rescued through window.
He said: "There was a big noise, I opened the door and the balcony had gone. I was scared the whole house was going to go."
Building inspectors were examining the structure using a hydraulic platform.
Steve Barnes from Cheshire Fire Service said: "We evacuated the shopping arcade itself as a precautionary measure.
"We are working to ascertain whether there will be further collapse, but at this moment in time we do not believe that will be the situation."