Cambridge cluster confirmed as world leader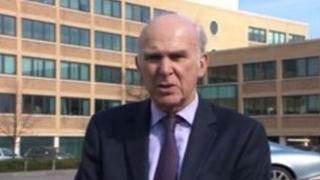 Vince Cable faced a diary clash; he could either go to the West Country to make a major aerospace funding announcement with the Deputy Prime Minister, or he could launch Cambridge Business Week.
"I decided to come here not just for sentimental reasons but because I recognise the importance of what you're doing", the Cambridge graduate told his audience,
Surrounded by some of the cleverest (and possibly richest) entrepreneurs in Britain, the Business secretary praised the phenomena that's become known as the Cambridge Cluster.
"You are the premier cluster in the UK without a doubt," he said. "You are remarkable and unique. If there is a silicon valley in Europe this is it."
1525 technology companies are dotted around the Cambridge area. They employ 53 thousand people and have an annual turnover of nearly 12 billion pounds. And while he was in the City, the pharmaceutical giant, Astra Zeneca, announced that it would be moving its corporate headquarters to Cambridge and building a new research and development centre.
"They've come here because Cambridge is now a world leader in technology science," Dr Cable told us.
World Leader
"Cambridge has become a world leader, you've got one of the best universities in the world, some world class research is done here, numerous Nobel prizes have been won and at the same time over the last few decades it's become a major centre for entrepreneurship."
"It's this fusion of good business entrepreneurship and a strong science and research base which is making Cambridge such a success."
As he toured the city, Dr Cable was keen to speak about what the Government is doing to try to encourage greater entrepreneurship. He talked about the "Valley of Death", which new companies have to go through as they try to find financing for their projects - on that, he hoped things were starting to get better.
Concerns over infrastructure
But those he met had other concerns: many smaller companies were finding it hard to be considered by the Government when it was awarding contracts. Worries over the poor state of transport infrastructure and the lack of affordable housing, which makes it harder to encourage people to work in Cambridge, were also expressed.
Dr Cable acknowledged that there is a problem: "There is a real danger here and if this economic success story is going to be kept going, there is going to have to be a lot more houses being built, including social housing."
He hopes the Government's new City Deal status, recently awarded to Cambridge, will help by giving local councils and the business community more of a say in planning issues.
"Ultimately our future is going to lie in knowledge based industries and we've got to all get behind it," he warned.
The Government is looking to the private sector and particularly the so-called new technologies to drive economic growth. Dr Cable sees Cambridge playing a key role.