Cross-bearing Cumbrians walk 100 miles to Lindisfarne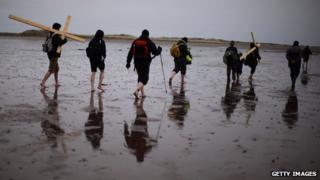 People do many things in the name of faith.
Some, this Easter, will be walking across a Ministry of Defence firing range in Northumberland with a huge crucifix on their shoulders.
They will cover 100 miles from Carlisle to Lindisfarne off the North East coast as part of an annual pilgrimage marking Holy Week.
Maggie Mason likes it because "it's not inside a church and it's not controlled by authority figures".
Now 59, she has lost count of the number of times she has done it.
Her first was in 1977, a year after the Northern Cross pilgrimage began in Penrith.
She was six months pregnant with her first son and her walk leader was worried the exertion would bring on labour.
This leg - there are seven from various locations in Northumberland and Scotland - runs along Hadrian's Wall, through the Otterburn army training area and skirts the Cheviot Hills.
'Hear the firing'
Mrs Mason likes the walk across MoD land, for which they need permission.
"They've told us it is safe to go but it isn't actually a guaranteed no-firing day," she said.
"They've promised us we'll be all right."
"One year they walked across with us and that was really moving. We could hear the firing.
"You just think about women all over the world in war-torn areas who can hear the bombing. It made you think."
The pilgrimage is not easy - nor is it meant to be. They sleep on village hall floors and carry crucifixes.
The Carlisle cross - which lives in Mrs Mason's attic and is bigger than her - is "fundamental".
It is carried in pairs, the burden shared, she said. Every group has one and there are small ones for children.
"It's a really deep way of getting in touch with Jesus over Easter," Mrs Mason said.
"You really think about, 'Do I believe in this, why am I slogging over these walls, why is this heavy on my shoulder, why am I cold and wet, do I believe in this or don't I?'"
'Bit crazy'
Sophie Swarbrick, a 22-year-old IT student at Northumbria University, said she had not walked anything as long as the Carlisle leg before.
"It could be a challenge without as many showers as I'd like or without a hairdryer but I think it will be quite fun," she said.
Her friends think she is "a bit crazy" but it is the distance, rather than the religion or the crucifix, that puts them off.
"I think a lot of people are too comfortable with their home comforts and really couldn't imagine putting those aside for a week and taking a walk," she said.
The pilgrims do not confirm to stereotype - it seems a journey for those seeking faith as much as those secure in it.
Mrs Mason remembers atheists, agnostics, Hindus and Jews.
They converge to cross Holy Island's tidal causeway on Good Friday, creating what Mrs Mason calls "a bit of a tourist attraction".
"You see a group of people walking along, carrying a cross through the wind and the weather and the blizzard," she said.
"It sends shivers down your spine."